Lingua Nova offers individual and group courses of Polish as a foreign language.
Curriculum is adjusted to the individual needs of our students.
We offer General, Business and Polish for Specific Purposes.
Courses take place at Lingua Nova located in the centre of Warsaw or at any location of your choice.
We run classes in various ways: traditional, online or e-learning/blended- learning.
Enroll in one of individual or group courses 
Group courses levels: A1 (elementary), A2 (pre-intermediate), B1 (intermediate), B2 (upper-intermediate).
Individual courses – all levels.
Price from PLN 19.97
FREE COURSEBOOKS!
Zapraszamy do skorzystania z naszej bogatej oferty kursów.
Please select one of contact form 7 for display.
As a part of the course and also in order to bring together course participants, we offer one of the trips entitled "Culture and History of Warsaw" for all participants of group courses.
If you want to join the event,  enroll in our course now
History of the City
You will see, among others, the most important church in Warsaw connected with the first constitution in Europe, the place where Maria Skłodowska-Curie was born, the Warsaw Uprising Monument, the Tomb of the Unknown Soldier.
Old Town
You will see, among other landmarks, the Castle Square, the Sigismund's Column, the outsides of the Royal Castle, the St. John's cathedral, Kanonia, the panoramic terrace, the Old Town Market, the Mermaid Statue, Barbican and City Walls, the Little Insurgent Monument, the Kiliński Monument.
Krakowskie Przedmieście
You will see, among other landmarks, the St. Anne's Church, the Mickiewicz Monument, the outsides of the Presidential Palace, Bristol Hotel, the Copernicus Monument, the University of Warsaw, the Holy Cross Church, the Piłsudski Square, the Tomb of the Unknown Soldier, the Saski Garden.
Interesting locations
You will see, among other landmarks, the Palace of Culture and Science, the location of a failed assassination attempt on Hitler, the Piłsudski Square with the Tomb of the Unknown Soldier.
The trail of coups
You will learn about  Kutschera assassination, and  the attack on the bank convoy, among others.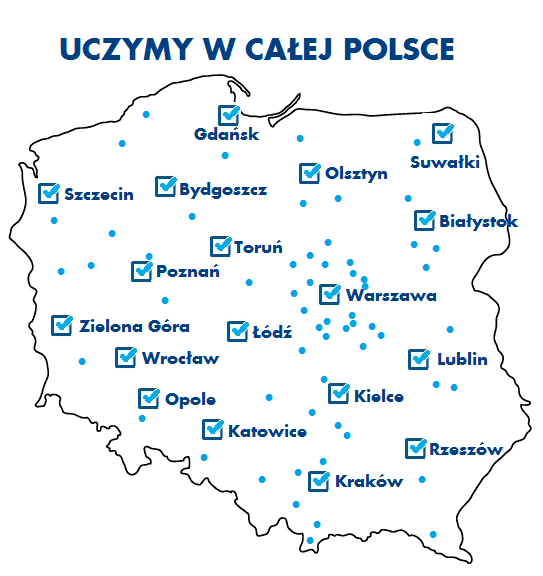 Ogólnopolska Grupa Językowa
Lingua Nova Warszawa
ul. Wspólna 41, p. II
00-519 Warszaw
22 584 10 10
22 584 10 11
– contact for existing customers. If you are contacting us for the first time, please fill out the contact form at the bottom of the page. School opening hours: Mon – Thurs at: 8.00-19.00, Fri at: 8.00-18.00
Lingua Nova Kalisz
ul. Serbinowska 5
62-800 Kalisz
62 766-25-25, 62 766-26-26
Lingua Nova Kijów
ul. Volodymyrska 69, 4
01004 Kyiv (Ukraine)
+380 (93) 584 9300
Contact Form
The administrator of your personal data obtained in relation to the correspondence is Lingua Nova Sp. z o.o., ul. Wspólna 41, room II, 00-519 Warsaw. Your personal data will be processed only for the purpose necessary to handle your inquiry under this contact form. Additional information about the processing and protection of your personal data by Lingua Nova Sp. z o.o. and about your rights are available in the Privacy Policy.